Swiss Casinos Group Goes Live with Playtech's Content on Swisscasinos.ch Entity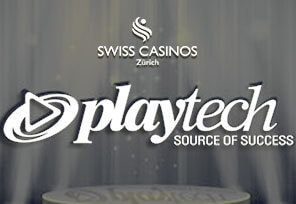 Playtech, an omni-channel gambling organization has announced that they have entered the market in Switzerland after signing a partnership deal with Swiss Casinos Group.
The Swiss Casino Group operates four land-based venues across Switzerland in Schaffhausen, Pfäffikon, St Gallen and Zurich.
Swiss Operator Live with Playtech portfolio via Swisscasinos.ch
The results of this partnership deal is that Swiss Casinos is not the first operator in Switzerland to launch both a live casino offering and jackpot casino games in the newly regulated market. This partnership comes after the introduction of new regulations, enabling the establishment of the country's regulated online market.
Thanks to the developer's ONE Omni-channel offering, the provider's casino offering allows players to access the games anywhere, at any time, on any device, including mobile devices, through a single wallet and a single account.
Representatives from Swiss Casino Group say that the new regulations have given casinos in the Swiss market, the opportunity to enter the online market for the first time. After establishing the company as the leader in land-based casinos in Switzerland, they had to choose a partner for their online platform and Playtech is a perfect fit. They are looking forward to successful, long-term cooperation.
Marc Baumann, the CEO Swiss Casinos Group, said: "The new Money Gaming Act has given casinos in Switzerland the opportunity to enter the online market for the first time. Swiss Casinos has successfully established itself as the market leader for land-based casinos in Switzerland. Choosing the partner for the online platform then was our top priority and we are delighted to partner with Playtech. In our partnership with Playtech, we want to continue the success story of Swiss Casinos in the online market as well. The outstanding offer, the high competence of the team and the flexibility in adapting to the regulatory requirements have laid the foundation for a successful and long-term cooperation."
More on the Brand
As the industry's leading technology company, Playtech delivers business intelligence-driven gambling software, services, content and platform technology across the industry's most popular product verticals, including casino, live casino, sports betting, virtual sports, bingo and poker. The company was founded in 1999 and ever since then, it has had the goal to develop top-notch gaming products and content and the success of the company centered around successful partnerships with their licensees. It is licensed by the United Kingdom Gambling Commission.
The company now employs more than 5,000 experts spread around 17 countries in which the company is based. It is working with 140 global licensees and operates in 20 regulated jurisdictions.
Source: "Swiss Casinos recruites Playtech for igaming launch". Casino Beats. September 26, 2019.
Related News