ComeOn Group to Present Its New Live Casino Studio!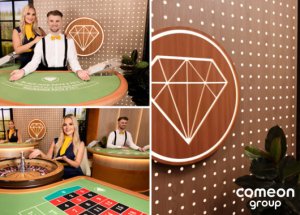 ComeOn Group, a prominent iGaming operator, announces that the brand made an important move that will see the launch of another dedicated studio!
That means players who opt for this brand from now on can spend their time with their favorite games in another modern studio and get an unforgettable iGaming experience!
Expanding Its Offering!
This popular B2B just introduced the Nordic Ruby Lounge, a next-gen Live Casino studio as part of its Ruby Lounge portfolio. This unique studio strives to deliver a localized and memorable entertainment experience for customers in the Group's crucial markets. The Nordic Ruby Lounge stands out by presenting a Scandinavian-style live casino environment, equipped with native live dealers, to ensure a superior customer experience.
As an essential part of the Ruby Lounge portfolio, which was initially introduced in early 2022, the Nordic Ruby Lounge keeps the portfolio's premium brand identity.
This originality ensures a whole and protected entertainment experience for all brand's players. With a "brands within brands" method, Ruby Lounge contains live Blackjack and Roulette tables operated by ComeOn's dedicated and experienced team of live dealers.
The Lounge differentiates itself via its customized and personalized touch, making it a unique live casino product and studio of high standards within the industry. ComeOn Group places strategic importance on the live casino segment, and the launch represents a significant milestone in its growth trajectory.
Striving for the Best!
The company once again showed its desire for further growth and improvement of its services to attract more clients.
Cristiano Blanco, Chief Product Officer at ComeOn Group, said: "We are extremely happy to see Nordic Ruby Lounge take things to the next level with our live casino offer. Our Nordic players can now enjoy a bespoke environment locally tailored around their preferences, with native dealers for that extra cherry on top. It's been about great teamwork throughout all involved departments, which has landed us in a great quality product with a truly impressive design and functionality. For us, the launch of Nordic Ruby Lounge is a great milestone and with that said we are looking forward to seeing Nordic Ruby Lounge succeed and take things up a notch."
Source:
"ComeOn Group launches new bespoke live casino studio under the name Nordic Ruby Lounge", europeangaming.eu, June 1, 2023.
Related News