Extreme Live Gaming Live Blackjack
Extreme Live Gaming specializes in live dealer games since 2013 by combining studio environment, a team of specialist dealers, and casinos' table games into cohesive players' experience.
Whether by integrating directly or via other gaming platforms (Greentube, NYX), the company offers blackjack, roulette, and baccarat in addition to customized services such as LiveBox (live feed from popular land-based casinos) and Dedicated Environments (Omni-channel platform).
All live dealer games are available on desktop and portable devices, using HTML5 protocols to allow for optimized features and functionalities for mobile users.
Extreme Live Gaming is based in London, licensed in Malta (MGA), regulated by the UK Gambling Commission, audited by eCOGRA, and cooperates with credible partners around the world.
In 2018, the company was acquired by Pragmatic Play, one of the leading developers of online gaming content.
Live Blackjack Features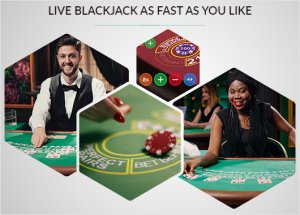 Extreme Live Gaming offers a single blackjack game streamed from a small and cozy London-based studio that gives a more personal and intimate atmosphere. Cameras' positions make dealers appear closer to players, the studio is not noisy, while the background sounds of other table games bring the casual hum of land-based casinos.
Each game is hosted on seven-seat tables in four different colors which differentiate between standard (low and higher stakes), VIP, and international games. The latter is for languages other than English — although the moment players from the United States might find this game unavailable — and Extreme Live Gaming supports Italian and German, while additional language services can be arranged for.
Other than the blackjack table with a dealer, the playing interface consists of a control strip and side panels.
The toolbar offers all the necessary options for proper gaming interactions. On desktop devices, the functionalities are at the bottom of the screen, on tablets they're at the side and top areas, while on mobile phones they alternate between all available display positions (depending on landscape or portrait mode).
Players can use the Settings button to view player history, to set the language, or set Bet Behind side bet (a bit about this in a few moments). Cashier button allows for deposits and withdrawals, Audio switches sound on/off, two video buttons (Video Quality and Video) defines stream quality and type of image (with or without a dealer), while by clicking on Help players get detailed info on the game and side bets rules.
There's also Full-Screen option at hand and Pre-Decision button which appears when there's more than one person on the table (and player chooses the action before it's his or her turn, which is a nice feature to speed up the game).
The center of the control toolbar is reserved for gaming chips, bet size, and general game information (number and/or duration).
Two side panels – which pop-up on the left and right side of the screen — display Chat and Betting/Payout information. Patrons cannot use chat unless they are present at the table, with money in their account.
Players have about 10-11 seconds to make a decision, which offers good game dynamics. Another nice feature is Disconnection Policy: in case a player somehow gets disconnected during the game, the hand that's been dealt stands (no more cards are handed out), but if it wins the money is paid into the player's account.
All in all, Extreme Live Gaming live blackjack features offer the right balance between pleasant impression and necessary functionalities which, in turn, allow players to focus on the game.
Live Blackjack Rules
First off, this is a 3:2 payout live blackjack with 2:1 insurance that uses the 8-deck manual shoe, which is the most common variant and infinitely better than 6:5 one.
Secondly, the game uses Vegas rules, that is — the dealer gets two cards, S17 (dealer stands on soft-17), pair splitting is allowed without limits in additional hands, split aces can receive only one card (no RSA), DA2 (player can double down on any first two cards), no doubling down on a split hand, no ES/LS allowed, the dealer peeks at hole card.
Under these rules, the house edge is 0.62%.
The shoe is changed at about ¾ of the way through. The cards are shuffled in plain sight, on a table behind the dealer.
The main difference between standard and VIP versions of live blackjack is in table limits. The former allows for any bets and side bets up to €1,000; in the case of the latter, quite similar to private tables, players have to place the minimum bet of €25 while the maximum is €2,000.
Game Side Bets
Extreme Live Gaming live blackjack offers three side bets: Bet Behind, Perfect Pairs, and 21+3.
Bet Behind lets the patron place a bet on other players' cards just as if he or she would do it in its hand. This bet might be interesting for those who wait on their turn or when they want to bet on someone else's piece of the action at the same table. Worth noting, though, is that one has no say in how such hand might be played, thus Bet Behind should be used on good players only. The Settings button on the control strip lets a bettor turn on/off the automatic clone of the player's actions (double, split, take insurance).
The Perfect Pairs side bet can be triggered when a player gets a pair. There are three variations and they pay differently:
Identical Pair (two Ace of Clubs; two identical cards), pays 25:1 (house edge 13.3%)

Colored Pair (Ace of Hearts and Ace of Diamonds; two cards of the same rank and color), pays 12:1 (house edge 8.05%)

Mixed Pair (Ace of Spades and Ace of Hearts; two cards of the same rank but different color), pays 6:1 (house edge 4.10%)
21+3 is a side bet based on the combined outcome of the player's initial two cards and the dealer's upcard compared to the poker game. This bet has to be placed before the dealer deals the cards. Depending on the combination, 21+3 may pay:
Flush (Jack, King, Ace of Clubs) — 5:1

Straight (Five of Hearts, Six of Spades, Seven of Diamonds) — 10:1

Three  of a Kind (Kings of Clubs, Hearts, and Spades) — 30:1

Straight Flush (Jack, Queen, and King of Hearts) — 40:1

Suited Trips (three Kings of Clubs) — 100:1
Final Thoughts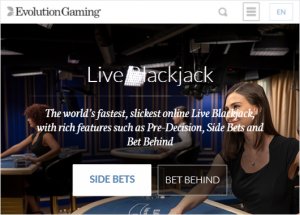 Live blackjack from Extreme Live Gaming is comparable to Evolution Gaming's version, though the most striking difference is oversight of the Deal Now button present in the latter.
Other than that, this version is a fun and exciting experience, with proper game rules and proactive, professional dealers that won't shy away of urging pit bosses to free up table seats when they notice that player's out of action.
Tailored tables offer flexibility, tons of action, and kind of create familiarity with staff, while all technical aspects of the game front- and back-end give notable efficiency and availability anytime, anyplace.
The game is certainly worth a try as long as players use proper strategy and approach it responsibly, well within the limits of their budget.
To that end, have great fun and good luck!
Further Reading