FashionTV Live Blackjack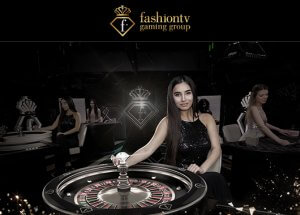 FashionTV Gaming Group (FTVGG), an offshoot of FashionTV, enriched its iGaming portfolio in 2019 with Fashiontvplay Casino and live dealer Blackjack FTV as part of a joint endeavor with BetConstruct, one of the leading global technology and services providers.
FTVGG was founded in 2015 as an exclusive venture to mix the global lifestyle, fashion, high glamour, and luxury television channel with online gaming. Their portfolio consists of several iGaming products and websites.
Before we delve into details of their live blackjack…
… it might be useful to differentiate three entities under the FTVGG umbrella: Fashiontvplay Casino, BetFashionTV Casino, and Blackjack FTV itself.
Fashiontvplay Casino, also known as FashionTV Casino, is a relatively new online hub launched in 2019 jointly between FTVGG and BetConstruct. It's run by Radon B.V. and licensed in Curaçao jurisdiction under a sublicense issued by CIL (5536/JAZ), one of four master license holders in this Caribbean country; other casino's certificates include UKAS and SOCOTEC membership.
BetConstruct's credentials, on the other hand, comprise of MGA license, NMI certification of RNG, UK Gambling Commission regulation, and additional registration for South Africa and Curacao operations, among others.
According to Fashiontvplay's T&Cs, the online casino does not accept players from the U.S., Australia, France, Italy, Spain, and close to fifteen other countries. They offer a sportsbook, keno, blackjack, roulette, baccarat, and several variants of poker, with the notable exclusion of slots.
By default, all table games involve live dealers.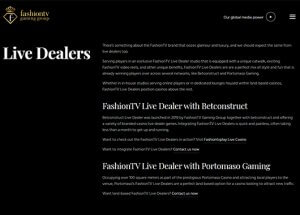 Other than BetConstruct, Fashiontvplay's portfolio includes Lucky Streak, Evolution Gaming, and NetEnt gaming providers.
The reason why you won't see any online slots in this casino is that they fit into the purview of another member of the FTVGG portfolio — BetFashionTV Casino.
This particular casino has been present at the iGaming scene for quite some time, in fact, long enough to be blacklisted both at LCB, our parent website and on Wizard of Odds, our sister site.
Finally, Blackjack FTV is developed by BetConstruct that, in effect, operates as branded live dealer game available exclusively at Fashiontvplay Casino.
With this short clarification of FTVGG operations under our belt and worth noting, let's see this game.
Live Blackjack Features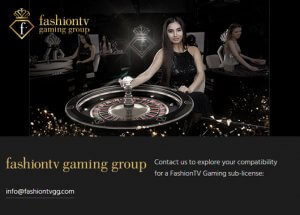 Blackjack FTV is streamed from a fairly small studio completely branded in FashionTV black visuals, with logo prominently displayed behind and aside from the dealer. An additional video display showing FTV girls walking down the catwalk sits prominently on the left side of the player's screen.
Patrons looking for the opulent atmosphere of brick-and-mortar casinos might find the outlook a bit sterile and even blackish — particularly when you consider kind of distant, unengaged staff — but to the FTV devotees, the atmosphere might indeed be a new black.
Blackjack FTV is available in two versions, standard and VIP, both played at tables that host seven players. Other than small writings that differentiate one from the other, the only further visual distinction is in the outlook of the studio: whenever you play VIP game, you can see other tables in the background, similarly branded to the standard version.
As you enter Blackjack FTV, the lobby displays tables available at the moment. Other than game type and dealer, you can also see the previous hands, language, and stakes. Also, you can choose between Practice and Play modes; the former lets you feel the game before you decide to join.
Once in, the user interface has all the necessary information available across the whole screen.
A control strip is in the upper right corner and allows for quick access to paytables, side bets, video and audio settings, chat functionalities, and a rather extensive general information on the game.
Information about your balance and bets' size, as well as cashier functionality, are at the lower-left corner, right below the chat window that also includes the list of players at the table.
The main functionalities pop up in the middle of the screen, in a neat and transparent hovering mode. It allows you to drag-and-drop chips, set available bets, and to direct your moves; you have approximately 12 seconds to make a decision. This part of the screen also displays all winnings.
Blackjack FTV offers six side bets: Perfect Pair, Honey Bonus, Lucky 7, Three Card Bonus, Four Card Bonus, and Bet Behind.
The Perfect Pair side bet is available whenever you get a pair of cards with three available variations and payouts:
Mixed Pair (two cards of the same rank but different color) — 2:1
Non-Suited Pair (two cards of different suits) — 4:1
Perfect Pair (two identical cards) — 6:1
The Honey Bonus side bet is based on 21+3 which combines the result of player's two original cards with the dealer's upcard in comparison to poker hands. Depending on the outcome, Honey Bonus offer different payouts:
Suited Blackjack (blackjack of the same suit) — 3:1
Flush (three cards of the same suit) — 5:1
Straight (three sequential cards, not necessarily in the same suit) — 10:1
Three of a Kind (three cards of the same rank) — 20:1
Lucky 7 side bet rewards the player depending on how many sevens it gets in a row, up to three cards, and also takes into consideration cards' suit. Payouts are as follows:
One seven — 3:1
Two unsuited 7s — 25:1
Two suited 7s — 50:1
Three unsuited 7s — 100:1
Three suited 7s — 500:1
Three Card Bonus side bet is based on the dealer's cards and allows the patron to win whenever they comprise the following combinations, with varying payouts:
Flush (three same-suit cards) — 2:1
Straight (three sequential cards) — 8:1
Three of a Kind (three same-rank cards) — 30:1
Four Card Bonus side bet is essentially the extension of Three Card Bonus and takes one extra dealer's card (total of four) into consideration, offering different payouts:
Two Pairs — 25:1
Flush — 60:1
Straight — 70:1
Four of a Kind (four cards of the same rank) — 250:1
Blackjack FTV also has Bet Behind side bet that lets you bet on another player's hand while you wait for the seat at the table as well as during the game. Short of choosing your favorite wisely, you can also select in advance whether your bets will automatically mimic the actions of another patron or not.
Of these six side bets, only two can be played at the same time.
Mobile
For the time being, it seems that Blackjack FTV is available only on desktop devices at Fashiontvplay Casino. Mobile icons are present at the website, though inactive, thus portable devices' availability might come soon.
Native & Private Tables
Blackjack FTV supports only the English language, although players from America and Australia cannot play it at Fashiontvplay Casino.
However, BetConstruct blackjack — essentially the engine behind Blackjack FTV — does support native tables in other interactive hubs, depending on their policy.
When played on a private table, such as the VIP variant, Blackjack FTV enables increased table limits.
More precisely, standard version gives the player the possibility to set bets between €5 and €1,000 while side bets are limited to €2.5-50 (except for Bet Behind with the range of €1-200).
The VIP option allows for any bets between €10-2,000 and side bets in the vicinity of €5-60. Bet Behind limit in this version is a minimum of €2.5 and a maximum of €400.
In Comparison
Blackjack FTV has one of the best sets of game rules available online that surpasses even those offered by Visionary iGaming and fare much better when compared to Ezugi.
The game flows smoothly, the user interface provides for full control of moves (the central rounded console is quite precise), while relevant information is easily accessible.
On the flip side, the experience of blackish branding may be off-putting to some players. The side bets offer more diversity than other operators do although payouts are significantly lower when compared to, for instance, Evolution Gaming (particularly in Perfect Pair and Honey Bonus/21+3).
Same goes for native support — you might have to play using foreign language but, then again, that's not so decisive considering the global nature of blackjack.
The most interesting detail, of course, is BetConstruct's engine and what it brings to the table. Thus, if you run into this version in any other interactive hub, you might as well have good mobile experience and enjoy in other languages.
Other than that, Blackjack FTP can be fun and exciting as long as you approach it prudently and responsibly while mastering proper strategy like Ninja in black! Have a good one & good luck.