Usoft Live Blackjack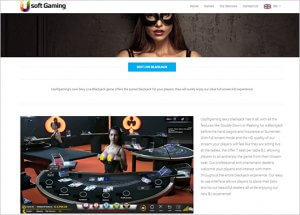 Usoft is perhaps the most unique live casino provider you can find, in terms of the very sexy appeal of croupiers and dealers: women by default wear see-through lace dresses and fashion highly provocative outfits. In case of the major win, say, natural blackjack, a dealer won't shy away from flashing her rack or undress in one form or the other.
Other than that, Usoft is Curacao licensed game provider launched in 2016.
Registered under UsoftGaming N.V. umbrella and sub-licensed by Cyberluck (1668/JAZ) — one of four master license holders in this Caribbean island — this video content distribution network (CDN) streams from 30 worldwide locations (for great low latency networking), offers multi-language support in 23 languages, and service more than 90 global currencies (including bitcoin) while delivering high-end on-demand and live video gambling and broadcast experiences.
UsoftGaming N.V. also operates PH Casino — licensed in Curacao (with a valid seal of approval) — where the majority of Usoft sexy games are available, in addition to other iGaming hubs.
The portfolio includes slots, Texas hold'em poker, and three live dealer games — roulette, baccarat, and blackjack branded Sexy Live Blackjack.
Other than the gaming aspect, each game features adult content: the video available on full-screen HD fits into NC-17 classification (adults only) in the United States.
Live Blackjack Features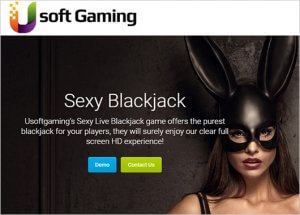 Sexy Live Blackjack is broadcasted from the purpose-made studio in Costa Rica. The spacey accommodation offers a lot of action both in the foreground and background. Almost undressed dealers are rather friendly and chatty, while sights and sounds radiate sensual atmosphere.
The game is available in two versions, standard and unlimited, both played at a seven-seat table in black color. Once in the casino lobby, players can choose between different dealers and game variants; there is also a neat feature that lets patrons see the dealer's last five hands before they make their decision.
The user interface is clean and small, yet quite sufficient. Control strip sits at the bottom of the screen and hosts the usual set of buttons and information — game ID, dealer's name, balance, bet amount, chips, game moves, volume, and chat commands — while the general settings panel is in the top right corner.
A chat window appears right beneath, in the column view on the right side of the screen.
Sexy Live Blackjack additionally features a couple of different views when it comes to the history of games that a patron has played. Named the Big Eye, Small Road, Cockroach Road, and the Big Road, they allow players to compare bets and corresponding results, which can be helpful in terms of playing strategy.
House Rules
Usoft's Sexy Live Blackjack uses the following rules:
House edge: 0.43%
8-deck manual shoe
Surrender allowed for, both early (ES) and late (LS)
S17 (dealer stands on soft-17)
DOA (player can double down on any first two cards)
Pair splitting is allowed only once (no re-splitting)
Doubling down on a split hand is allowed
Insurance pays 2:1
Blackjack pays 3:2
Dealer peeks for blackjack
Shoe penetration: 50%
The cards are shuffled at a side table by yet another scantily dressed dealer.
Mobile
The game is available on desktop and portable devices, enabling patrons to enjoy it on the go, although the adult-oriented content might not be something to stream on a mobile device while in the company of others.  Naturally, the display of functionalities varies between devices.
Native & Private Tables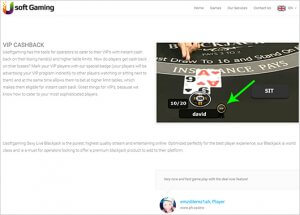 As said, Usoft supports myriad languages; thus, players from practically every country may enjoy this game. On the other hand, Sexy Live Blackjack availability infinitely more depends on national regulations.
At the moment, players from Australia, the United States, and France may play this game at PH Casino.
In terms of private tables, the main difference between standard and unlimited versions of this game is in limits and availability. The standard version adheres to four different table limits — $1-100, $5-500, $100-1,000 and $1,000-10,000 — while the unlimited version allows for the removal of any financial restrictions.
The game also has the VIP option which allows operators to cater to the best players with instant cashback while betting at higher limit tables. Such patrons are distinctly marked with a custom-made badge.
In Comparison
Other than the appeal of the whole experience — which can be further upgraded to full-blown X-rated and pornographic elements — Sexy Live Blackjack does not offer much of special features like Extreme Live Gaming or BetConstruct, for instance.
Then again, the whole concept of Usoft is to target niche iGaming segment that attracts players who want to mix feast for eyes with gambling experience. Judging by players' comments at PH Casino, there are more than a few unhappy ones when, now and then, tables open later than usual. It seems that astonishing women flaunting their beauty is much bigger crowd-puller than the game itself.
Although high-end skills necessary to win big in blackjack might suffer under such conditions, Sexy Live Blackjack still offers a lot of fun, excitement, the unique experience, and friendly, dynamic interactions with raunchy dealers to all patrons who are into this type of entertainment in the first place.
Finally, to be successful in online gambling requires a fine mix of knowledge, prudence, and responsibility on players' behalf. This game will put all of those to test, which is rather expected. However, it does not mean you should forget the basics, so please make your decisions accordingly.
With that in mind, have a good one and may good luck be with you!