Rio Las Vegas Puts Twisted 21 Blackjack Variant on a Trial Period
Twisted 21 is the latest blackjack variant to hit the scene, but it is a little different than other new versions of the classic game players may have encountered. The particular variant has been under field trial since July 7, 2019, at Rio Las Vegas.
The single-deck base game is different than any other 21 game players have seen before and it has a Stud Bonus side bet available.
The Rules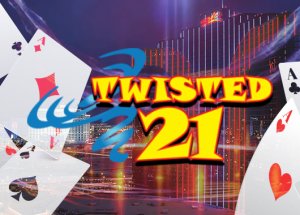 Let's briefly go over the rules…
It uses a single 52-card deck and there are two wagers available…
…the Twisted 21, which is the blackjack wager and it is mandatory. The second is the Stud Bonus, which is the side bet based on the poker value of the player's five cards and this one is optional.
After the bets are in, the dealer gives the player five cards, two face-up and three face-down. He also deals five cards to himself, one face up and four faces down. In case the dealer has a ten or ace up, he will check under the first face-down card for a blackjack. The winning hand will pay six to five.
When No One has a Blackjack…
In the event neither the player or the dealer has a blackjack, the player can hit, stand or double on his first two cards. It is important to remember that splitting is not an option. If the player goes for a hit or double, he has to point to one of the face-down cards, letting the dealer know which one he wants. The player can hit up to a total of the five-card hand.
Under the assumption that the player did not bust, the dealer will hit until he reaches a hard 17, soft 18 or five cards. The Twisted 21 wagers will be adjudicated as in standard blackjack.
As far as the 21 Stud wager goes, it pays according to the player's five cars only whether or not the player used all of them in his blackjack hand.
According to the available information, the base game has a 1.92% house edge.
The Stud Bonus side bet is when the five cards dealt come into play whether or not the player used all of it in the blackjack hand. The five-card hand plays similar to a typical poker hand. The house edge on the Stud Bonus bet is 2.49%.
Source: Shackleford, Michael. "Twisted 21". Wizard of Odds. August 12, 2019.
Related News