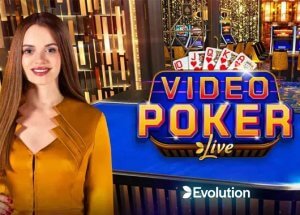 And after a series of numerous successes it managed to guarantee since the beginning of the year, Evolution, a well-established iGaming content supplier recognizable for its live casino games, brings good news to its players!
The developer has so far added several live casino games to its portfolio, which in a short time came to the top of the list of favorites among players. Thanks to enticing features and impressive adventures, these games are sure to be a hit!
Now, the brand adds another one to the list…
Innovative Release to Join Extraordinary Live Collection!
Evolutions's new live casino release is reportedly being prepared behind closed doors, and will be available to players at the end of August 2023!
If you like traditional casino games that will awaken nostalgia in you, then this will be the right title for you, welcome Video Poker Live! In its new release, the provider combines your favorite land-based game, with appropriate modernization! Indeed, the developer provides a land-based vibe, with the perks of playing from home.
This captivating mix of retro graphics and live casino adventure brings a modern version of video poker with up to 100 hands at the same time, plus five different paytables.
By adopting this approach, you can endeavor to achieve the most elusive poker combinations and secure significant winnings. There are five distinct sets of payout structures available, allowing you to select the one that best aligns with your preferences.
Jacks or Better
Tens or Better
Deuces Wild
Bonus Poker
Double Double Bonus
Using a standard deck of 52 cards, the game aims to create the optimal five-card hand. You can acquire extra hands, which initially appear face down at the top of the screen. Subsequently, the round proceeds akin to a typical video poker game, as you make choices and receive random cards for all the virtual hands.
Distinct color codes are assigned to each winning combination, and your victories are determined by the specific paytable you have selected for the poker combinations you manage to achieve.
But, Where to Play?
Although the title is not yet live, we can tell you where you can play it once August 23rd rolls arounf! As you may have anticipated, its newest product is set to be available at all Evolution live casinos!
An Evolution rep shared the following statement: "Experience the ultimate fusion of nostalgia and modern gaming with our live version of Video Poker! Featuring sleek, retro graphics and a live dealer, playing Video Poker has never been more thrilling."
Source:
"Evolution Is Launching Video Poker Live in August", livecasinos.com, June 22, 2023.
Related News