Ezugi Enriches Poker Collection with Royal Poker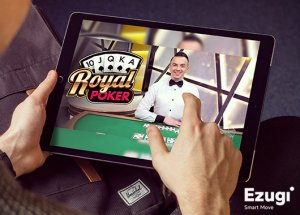 Ezugi, one of the leading premium content providers in the online gambling industry, has announced the launch of its latest live dealer game, thus further expanding its live casino offering with a popular title!
Since the beginning of 2022, this developer has taken several key steps that saw the expansion of its business scope even further.
Namely, Ezugi said at the beginning of February that it entered another key European market, Bosnia, and Herzegovina! On that occasion, the supplier launched its live casino content on the platform of the Bosnian operator Premium Kladionica.
However, this time the provider brings us something completely new!
Enriching Its Popular Portfolio!
As announced, Ezugi has decided to expand its Poker offering with a new title!
In 2018, it became part of Evolution Gaming. Since then, the company has progressed considerably and launched a large number of fantastic titles!
Royal Poker is one of the most sought-after titles by punters in the Eastern and Central European region. Wondering why?
This premium product will offer you the option to choose between several opportunities and make different decisions during the game including: you can exchange your cards for a stronger hand or buy an additional 6th card, buy an additional card for the dealer and thus help the dealer to qualify, or taking out insurance for a strong hand.
This live dealer game is completely simple, and the rules are more than familiar to all punters. In order to guarantee a prize, you must face the dealer using standard poker rules. All you have to do is beat the dealer's five-card poker by forming a stronger poker combination.
In order to qualify, the dealer must create a combination no weaker than Ace+King.
To help the dealer, you must have a strong hand. Then you can help him to buy another card.
Words from the Rep!
Players can take advantage of the dynamic gameplay offered by this title. Royal Poker is broadcast from a modern studio, and highly trained and professional dealers will ensure an unforgettable VIP experience.
Pang Goh, Business Development Director at Ezugi gave a comment regarding the new release and said on that statement:"While the roots of our new Royal Poker game have come from Eastern Europe, there's no doubt that this Poker variant is becoming more and more popular across other parts of the world. Players are always on the lookout for something different, and with Royal Poker we wanted to adopt a live casino game based on poker hands, in which a player is playing against the house. This ramps up the excitement around the game, encouraging players to experience a new spin on a classic variation. The choices that players must make during the game add an additional layer of complexity and challenge. These twists make the game such a joy to play, and we hope that players are going to appreciate the unique experience this game presents."
Source: "Ezugi launches Royal Poker and strengthens an already strong poker offering''. Old.ezugi. August 10, 2022.
Related News