Evolution Gaming Goes Live with Free Bet Blackjack and 2 Hand Casino Hold'em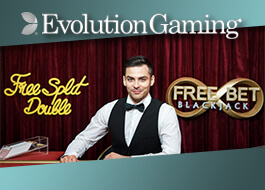 Evolution Gaming, one of the most reputable providers of Live Casino solutions, has proudly announced a fresh addition to their already impressive portfolio. The studio launched two new live games…
… Free Bet Blackjack and 2 Hand Casino Hold'em. These creations represent a sort of sequel to an already extensive line-up of Live Blackjack and Poker tables.
Differing from the Original
Representing the next game in Evolution's 'infinite' family of Live BJ creations, this version offers unlimited seats for players at a single table while adding automatic Free Bets on selected Double Down and Split bets. As in Infinite Blackjack, a single hand is dealt to all players. An advanced software combines the live dealing of physical and virtual cards directly to each individual player…
…regardless of how many of them are at the table at any given time. Upon dealing the initial two cards, each contestant can play their hand as they wish and make their own betting decisions. During each game round, Free Double Down bets on two-card hard 9, 10, 11 totals and Free Split bets on all pairs except 10s are automatically offered to the player whenever their hand qualifies. This release also features four optional side bets — any Pair, 21+3, Hot 3 and Bust It, along with the Six Card Charlie rule.
Spicing up Poker
The other title, 2 Hand Casino Hold'em, represents another unique poker variant from the supplier. It allows a virtually unlimited number of players to compete against the house. The contestants are dealt two separate hands. Besides giving users the choice of playing one or two hands, the game allows an optional AA Bonus Bet. With such a creative approach…
…this version is certain to provide more game rounds for players. According to the supplier's game statistics, when compared with standard Live Casino Hold'em, the fast-paced two-hand game results in 70% more games than a typical gaming session.
Players Will Love Them
As far as Todd Haushalter, Chief Product Officer for the brand, the innovative approach in blackjack stands good chances of conquering a wider spectrum of consumers. As he commented:
 "Our Free Bet Blackjack is based on one of the most popular modern varieties of Blackjack played in land-based casinos, so we are confident it will be a big hit with players."
He expressed a similar opinion regarding the freshly launched version of Casino Hold'em. Believing that the added possibilities will result in an even more unique experience, he declared as follows:
"In 2 Hand Casino Hold'em, meanwhile, two hands for every player means a doubly entertaining experience with increased fun, betting options and chances to win. If the player loses their hand in standard poker then the game is over. With two hands, however, the fun and the suspense keep on coming!"
SOURCE: "EVOLUTION ADDS FREE BET BLACKJACK AND 2 HAND CASINO HOLD'EM LIVE TABLE GAMES".
Related News