Teen Patti, Andar Bahar, and Mega6 Titles Will Be Presented at Sigma Europe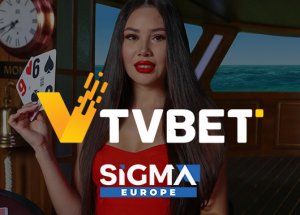 TVBET has added three more releases to its wide portfolio: Indian-origin card-themed Teen Patti release, Andar Bahar, and Mega6. After this, the number of games adorning their live title library is increased to fifteen.
It is very important to note that all partners of this leading B2B provider of live content have access to all games including the latest releases. Through these partnerships, the brand has gained the trust of many players and thus successfully expanded its business network.
All three games will be presented at the SIGMA event which will take place between 15th and 19th of November.
How do These Games Work?
From India comes Teen Patti or "Three Cards" as it is called, and some people compare this game to Poker. This release is very interesting and we can say with certainty that it will steal the attention from all players. The game is played with a deck of 52 cards, and the dealer will deal the cards alternately to each player until each has 3. Then, it is necessary to stack the cards so that you have the strongest possible hand. You will also be able to bet on the winner or a winning combination.
Andar Bahar is already a well-known game all over the world, and it also has its origins in India. The first card drawn in this game is called the Joker, and then one card at a time is drawn and placed on Andar or Bahar. The object of this game is to find a card that is the same value as the joker.
Pink and white balls will adorn the title of Mega6, and there will be a total of 49 balls. It is necessary for the player to guess which six numbers will be drawn between 1 and 49, but punters can also place their bet on the color.
CEO of TVBET, Peter Korpusenko said: "Our goal is not to stand still and constantly improve. We try to apply this principle to both existing and new products. We are proud that this year we managed to launch as many as 3 new games, which have already won their audience, and of course, we are not stopping here. To be continued! "
Source: "TVBET will present 3 new live games at SIGMA Europe". Sigma. October 29, 2021.
Related News