Stakelogic Live's Chroma Key Studio Sets New Standards with Bingoal.nl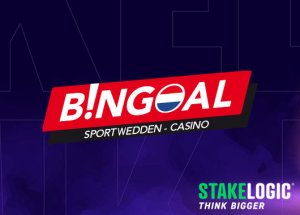 Stakelogic Live has once again found a way to present its live casino collection to a new audience after adding another big name to its partner roster!
The live casino division of Stakelogic, in a short time, established itself as one of the leading B2B brands thanks to its feature-packed and popular online slots!
However, Stakelogic Live continues its string of successes, and the new move is sure to be beneficial.
Presenting New Studio!
Stakelogic Live strengthens its European roots after shaking hands with one of the leading operators on the Dutch market and on that occasion presented its new modern studio!
Namely, it has merged with Bingoal.nl, and this leading casino brand is the first on the market to get the opportunity to benefit from the new studio and provider's products that it offers. Utilizing an innovative Chroma Key Studio equipped with a green screen, Bingoal.nl is set to provide distinctive live experiences to its players, leveraging customization and personalization. This strategic move will enhance its distinctiveness among competing brands in the market.
This studio will be based in the Netherlands, and players who decide to check it out will be able to take advantage of games that will be broadcast in Dutch!
Numerous operators can project their branding onto individual tables, with the current offering encompassing three different games. This includes:
7 Seat Blackjack
Absolute Blackjack
European Roulette
Although Bingoal.nl is the first casino that to benefit from this studio, other operators will also get the opportunity to present modern products and get the chance to offer branded and customized live casino products.
Important Market!
This is just another major move Stakelogic Live has made since announcing its desire to bring its players a new-level experience and start a new era in the iGaming industry.
Olga Bajela, CCO at Stakelogic Live, said: "Launching our Chroma Key Studio in the Netherlands is a major milestone for Stakelogic Live. It allows us to offer operators unrivaled branding and customization of tables so that they can offer truly unique and engaging player experiences. That this can be offered to multiple operators from a single table means this is infinitely scalable, benefitting both Stakelogic Live and the operators that partner with us. We are thrilled to be debuting our Chroma Key Studio with Bingoal.nl and for its players to be the first to enjoy the more deeply branded experience it can now offer."
Dany Salmon, Casino Product Manager at Bingoal.nl, added: "Live casino is hugely popular in the Netherlands and as an operator, it's important for us to stand out and deliver unique experiences to our players. Using Stakelogic Live's Chroma Key Studio allows us to do this in a way that strengthens the relationship between our brand and the player – building trust and the association between players and Bingoal.nl as being the go-to destination for live content in the Netherlands. "
Source:
"Bingoal.nl is the first operator to take advantage of the unrivalled branding and scalability opportunities Stakelogic Live's new studio offers!", europeangaming.eu, August 25, 2023.
Related News