Starcasino Lights Up Live Casino Gaming with Stakelogic Live's Chroma Key Studio!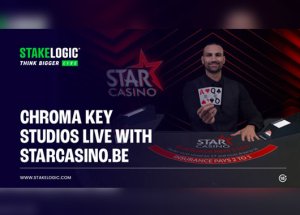 Starcasino has joined forces with Stakelogic Live, a leader in innovative live-casino experiences, to welcome its state-of-the-art Chroma Key Studio. This dynamic collaboration marks a significant leap forward in delivering an immersive and custom-tailored online live casino experience for players.
The Chroma Key Studio, A Game-Changer Unleashed
Stakelogic Live's Chroma Key Studio is nothing short of a game-changer in the live casino vertical. This cutting-edge technology has opened new doors for operators, providing them with the power to prepare a scalable and fully customized online live casino experience that stands apart in the market.
One of the standout features of Chroma Key Studio is its green screen technology. This creative tool empowers Starcasino to project its unique branding onto all of its tables and games, ensuring that players are treated to an immersive and one-of-a-kind live casino experience. It's a game-changer for Belgian casino enthusiasts.
Setting a Milestone in Belgium
With this partnership, Starcasino is set to make history as the first casino in Belgium to embrace Stakelogic Live's Chroma Key Studio. This move reaffirms Starcasino's position as a forward-thinking and customer-centric provider in the country. Simultaneously, it solidifies Stakelogic Live's position as Belgium's leading live casino content supplier, reflecting the company's desire to deliver top-tier gaming solutions.
The collaboration between the two brands signals a promising future for live casino enthusiasts in Belgium. With the powerful Chroma Key Studio at their disposal, players can anticipate an unmatched gaming experience, tailored to their preferences and enriched with immersive branding.
As Starcasino takes the lead in this pioneering experience, the entire industry stands to benefit from this innovative stride towards a brighter future for live casino gaming.
Dejan Loncar, Head of Live at Stakelogic Live, said: "Chroma Key is revolutionizing what live casino studios are capable of. It provides operators with the chance to project their brand on their live casino offerings and scale accordingly. This allows them to provide a truly unique experience for their players. We are thrilled to be debuting the Chroma Key Studio in Belgium. It has already been a huge success in the Netherlands, and this is a major step forward for the product."
Stefaan Maene, Marketing and Games at Starcasino said: "Adding the Chroma Key Studio not only strengthens our bond with Stakelogic Live, but it also allows us to offer a more unique and personalized live casino experience to our players. It will help us stamp our own touch on our live casino offerings and secure our place as a go-to destination for live casino content in Belgium. "
Source:
"Stakelogic Live Expands its Chroma Key Presence in Belgium with Starcasino", europeangaming.eu, October 25, 2023.
Related News