Stakelogic Presents Super Wheel™, Its Live-Casino Twist to Online Slot Action!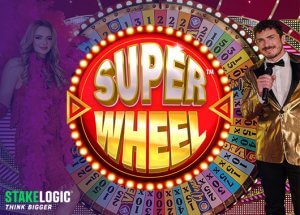 Stakelogic, a pioneering software provider, is ushering in a new era of excitement with the full network launch of its groundbreaking Super Wheel™ feature. This innovative addition seamlessly integrates the thrill of live-casino action into the developer's dynamic slot gameplay.
Spin to Win, Unveiling Super Wheel™
With the Super Wheel™, players are in for a treat as they embark on an unexpected journey triggered by a random spin. The feature transports players to a live studio powered by Stakelogic Live, where a captivating 54-segment money wheel awaits. Bursting with multipliers, prizes, and three enticing bonus features, the wheel is a gateway to massive wins.
Stakelogic doesn't just stop at the wheel. Upon landing on specific segments, players are transported to a second live studio, unlocking three distinct bonuses.
Vegas Drops™: Unleashes big multipliers across multiple columns, elevating the excitement.
Vegas Diamonds™: Rewards players with 10 extra spins, featuring symbols with colossal multipliers of up to 50x.
Vegas Hold 'n' Spin™: A respin-style feature where continuous symbol landings keep the wins flowing.
Super Wheel™ Stats
Super Wheel™ doesn't just promise thrills; it delivers substantial wins. Boasting an RTP of 93% and a hit rate of 1 in 75, players are in for an exhilarating ride with every spin.
Stakelogic's Super Wheel™ is another major milestone on the company's way to the top of the ladder of leading B2B brands. With a fusion of live-casino dynamics and innovative slot features, players can anticipate a new level of excitement and the potential for monumental wins. The Super Wheel™ feature is set to redefine the way players engage with online slots, making every spin a thrilling adventure.
Stephan van den Oetelaar, CEO at Stakelogic said: "We are super excited and incredibly proud to be fully launching the Super Wheel™ feature. It combines everything that makes Stakelogic great – namely, our innovative slot action and our live casino capabilities. Combining the two verticals will create a gameplay experience unlike anything else available on the market right now, and we can't wait to see how players react."
Source:
"Stakelogic Announce Full Network Launch Of Industry First: Super Wheel™", stakelogic.com, November 9, 2023.
Related News