Real Dealer Studios Delivers the First Celebrity Blackjack – Vinnie Jones Blackjack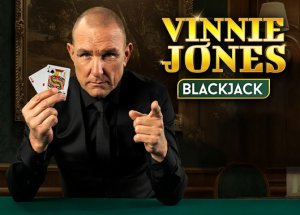 Once a famous football player and an actor in several award-winning movies, Vinnie Jones stars as the VIP dealer in Real Dealer Studios' latest casino game.
Vinnie Jones Blackjack is iGaming's first cinematic celebrity blackjack title, and the popular star never ceases to amaze us!
The first celebrity blackjack title was created using the Real Dealer Studios' unique design and allows players to interact with 'The Axe' bringing an unforgettable experience!
Exciting Side Bets
The Vinnie Jones Blackjack features some of the most exciting side bets. One of the player's favorites, 21+3 is based on the combination of the first 2 player's cards and the dealer's face-up card. Like poker, the player wins if he makes one of the following poker hands: flush, straight, three-of-a-kind, straight flush, and suited triples which bring a stunning 100:1.
6 Card Charlie is an interesting feature that delivers an automatic win if a player hits 4 times without going bust!
And of course, players have at their disposal 3 of the most common side bets – Split, Double Down, and Insurance.
Insurance is available only when the dealer's first card is an Ace. It costs half of the initial bet and pays 2:1 if a dealer hits a Blackjack.
Split, on the other hand, is available when the player has the first card of the same value. They can be split into 2 hands and the player continues to play separately.
Double Down is exciting and the most thrilling move in Blackjack. It costs 2x the bet and the player will receive only one extra card. After that, he/she is not allowed to hit anymore.
"There just hasn't been anything like this on the market before – an RNG blackjack game with this sort of personal interaction, and starring a celebrity to boot," said Shane Cotter, Chief Product Officer at Real Dealer Studios.
About Vinnie Jones
Vincent Peter Jones or Vinnie Jones, born in Watford, England, was a professional football player who played for Wimbledon, Leeds United, Sheffield United, Chelsea, and Queens Park Rangers.
He will be best remembered as a Wimbledon player as a part of the famous 'Crazy Gang', with whom he won the FA Cup in 1988.
As a football player, he is best known as a tough guy, and he transferred his reputation to screens where he played in Guy Ritchie's most famous films Snatch and Lock, Stock and Two Smoking Barrels.
Source: "Release of Vinnie Jones Blackjack marks industry first". Real Dealer Studios. November 7, 2022.
Related News