Playtech and Parx Interactive Launch iGaming App in Michigan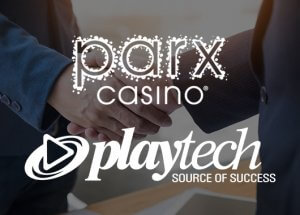 Playtech, the leading gambling technology company in the industry, has signed a partnership agreement with Parx Interactive and Gun Lake Casino to launch a brand-new igaming app in Michigan, Play Gun Lake.
Play Gun Lake will be powered by Playtech's IMS platform and Player Account Management (PAM). The app will also feature Playtech's top-performing igaming content.
The partnership between Playtech and Parx Interactive was announced in February 2021 and is a step forward in the strategic agreement between the two companies. Playtech and Parx Interactive also have plans to release new products in Michigan, New Jersey, Pennsylvania and Indiana, among other regulated markets in the US.
Parx Casino, which is the largest casino in Pennsylvania, will be the first to feature Playtech's IMS platform in the United States. The platform delivers the industry's leading backend solutions for igaming and sports betting services.
Representatives from Playtech say that this partnership is an important milestone in their development strategy for the US and that they are looking forward to working with Parx Casino.
Shimon Akad, Chief Operating Officer at Playtech, said: "The launch of Playtech's iGaming partnership with Parx Casino is another key milestone in the development and delivery of our US strategy. The US is a highly sophisticated market and therefore demands a technology solution that provides a high-quality customer experience. We look forward to continuing our work with Parx Casino to deliver industry leading gambling entertainment across multiple states and products."
Officials from Parx Casino say that they are delighted about launching the app and that their goal is to take the user experience to the next level.
Matthew Cullen, SVP iGaming and Sports at Parx Casino, added: "We are delighted to launch playgunlake.com, our new iGaming app in Michigan with Playtech and to bring the success of Parx into the Michigan iGaming market. Parx is constantly expanding its offerings to take user experience to another level, and to do so with Playtech's industry leading content is particularly exciting."
More about Playtech
The company was founded in 1999 and ever since then, its approach has been centered on the continual development of best-of-breed gaming products and content, and its success built upon strong partnerships with their licenses. The company is the world's largest online gaming software supplier offering cutting edge, value added solutions to the leading operators in the iGaming industry. With a little over 5,000 employees in 17 countries, owning 140 global licenses in 20 regulated jurisdictions, Playtech is a giant in its own right.
The company also offers cross-platform management systems, running via a unified information system called the IMS, providing operators with the tools to maximize cross-selling opportunities, player loyalty and yield. Playtech's product suite can be fully integrated into a complete cross-platform offering, enabling the players to access online, broadcast, mobile and server-based gaming terminals through a single account.
Source: Press release "Playtech launches partnership with Parx Interactive in Michigan" playtech.com April 28, 2021
Related News