Ezugi Launches Ultimate Roulette, with Big Multipliers and Circus-Themed Environment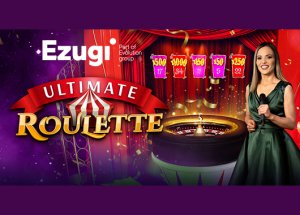 Ezugi, the live casino solutions provider, has launched its first and exciting live casino adventure called Ultimate Roulette!
The new game, which takes place in a gorgeous circus-themed atmosphere, offers a unique and immersive gaming experience that integrates the excitement of classic roulette with a dynamic and entertaining game show format.
Ultimate Roulette is hosted by a live game show presenter, who interacts with players in real time, thus making a dynamic and engaging atmosphere.
What to Expect?
The adventure features a custom-designed roulette wheel, which is divided into 37 numbered places, each with a different multiplier value ranging from 50x to 2000x. Players can place bets on any of the numbers on the wheel, with payouts based on the multiplier value of the winning number.
The game also offers to players the possibility to take advantage of five lucky numbers that receive random multipliers in the range of 50x to 1000x.
Punters can buy up to three extra lucky numbers per game round, and the lucky numbers can spread to up to three neighboring numbers on the betting grid. The new numbers will also receive the same multiplier as the original number.
Additionally, purchased multipliers can double (2x), potentially resulting in one or more multipliers with a value of up to 2000x.
Words from the Reps!
Ultimate Roulette is available to players across Ezugi's network, offering a thrilling and immersive gaming experience that combines the best elements of live roulette and game show formats.
The launch of the game is a clear indication of Ezugi's commitment to innovation and diverse collection of games that provided players with exciting and immersive gaming experiences.
With its unique game show format, custom-designed wheel, and range of betting options, Ultimate Roulette is sure to be a hit with players looking for something different in the world of live casino gaming.
Fredrik Bjurle, Chief Product Officer at Ezugi, commented, "Ultimate Roulette is a momentous launch for Ezugi. It's not only our first live game show but also a game with incredibly high production values. We are confident that players will be super-excited and entertained by the game's unique setting and the dynamic multiplier action, which gives them the chance to win up to 2000 times their bet."
Bjurle added that the game's unique features will keep players engaged and entertained, stating, "Players will be keeping one eye on where the multipliers are hitting, spreading, and potentially doubling in value too, and one eye on where the ball is coming to rest in the wheel. In terms of player engagement and entertainment value, it's the ultimate online live roulette gaming experience."
The latest launch is a testament to the company's dedication to providing innovative and immersive gaming experiences to players. The combination of the classic roulette game and the game show format with unique features such as lucky numbers and multipliers make for an exciting and engaging experience that is sure to delight players. The variant is a welcome addition to the brand's already impressive portfolio of live casino games, and it's sure to keep players entertained for hours on end.
Source:
"Ezugi launches its first live game show, Ultimate Roulette, with unique multipliers'', ezugi.com, March 30, 2023.
Related News