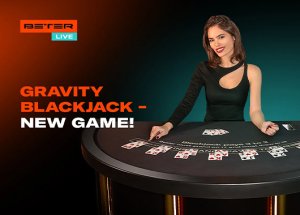 BETER Live, iGaming content supplier in the online gambling industry, announced that the company will soon bring a big surprise to its players in the form of a new online casino release!
The developer is known for its live casino portfolio, which is available to players across the globe, and is also one of the most praised and sought-after!
BETER Live was created as a live casino division of the popular iGaming content supplier BETER, and the brand was established at the end of 2021. Already in the first month, it presented as many as 4 fantastic releases including Roulette, Blackjack, Top Card, and Baccarat.
However, even though the company has drastically expanded its offering since then, BETER Live has announced that the company is ready to present its players with a new experience in its new live casino title called Gravity Roulette!
Incredible Adventure!
BETER Live has announced the release of GravityRoulette, which is very similar to the original roulette, but has been additionally improved to make it even more engaging and interesting!
This adventure will deliver incredible payouts and plenty of highmultipliers! Those who decide to explore this amazing game can do so from March 8th, when the game becomes officially available.
Set in front of a smooth cosmic-themed background, Gravity Roulette will offer you a pleasant atmosphere. In addition to this, players will have the opportunity to take advantage of multipliers up to x1,000 on each round as well as maximum payouts of 1:000.
"game that has multipliers on all inside bets, increasing the volume of players that want to participate in the game"
We believe that this top-tier game will bring unlimited fun to players, and we expect more adventures soon!
New Level of Gaming!
Players are in for a real treat with this first game show variant…
Anna Vikmane, Director of BETER Live, said: "We are thrilled to finally present Gravity Roulette, our first game show. We spent the last year building up a substantial offering for our partners, but this game takes it to a whole new level. We wanted to create a product that would look good and keep players engaged with its jaw-dropping multipliers on all inside bets."
Gal Ehrlich, CEO of BETER, said:"We are delighted to be adding our first game show to the BETER Live collection. This latest step is yet more evidence of our ambition and desire to create an even more impressive product, capable of competing with the existing game shows on the market.
"There are still several games to come in the Gravity series and we can't wait to show them all off to players around the world."
Source:
"BETER Live pulls in a new direction with its first game show Gravity Roulette'', europeangaming.eu, February 21, 2023.
Related News