Playtech Launches Quantum Roulette with Snaitech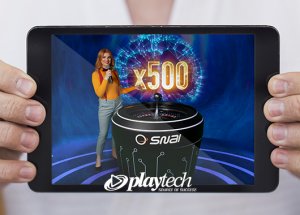 Playtech, one of the leading gambling technology companies in the iGaming industry, has announced the launch of an exclusive live Roulette variant, Quantum Roulette. The game was launched with Snaitech's online casino Snai Live Casino and this is the first game of this kind to launch in the Italian language.
The new vairant is designed around Single Zero rules and features multipliers on certain straight up positions in every game round. There are up to five multipliers, ranging from 50 to 500 times the bet. There are also two special events in the game, the Quantum Boost and Quantum Leap. The events are triggered at random, further enhancing the multipliers. Quantum Boost increases some or all of the multipliers by 50 and Quantum Leap doubles or triples the multipliers.
The game is hosted in a high-detailed studio and by native-speaking dealers. Quantum Roulette features amazing visuals, sound and presentation in a highly immersive atmosphere.
Enhancing Live Blackjack, Too
Aside from this new addition, Snaitech has also enhanced its live Blackjack offering, introducing a new and scalable All Bets Blackjack variant table. The game features a luxurious design and is available to an unlimited number of players. It has a series of side bet options for a diversified and exciting experience.
Playtech has also launched a variant of Blackjack, the Majority Rules Blackjack.
Excited to Reach the Italian Market:
Representatives from Playtech say that Quantum Roulette has been one of their most popular games last year and that they are excited about bringing it to the Italian market. They say that Quantum Roulette and All Bets Blackjack are perfect examples of innovative gameplay.
Edo Haitin, its CEO, comments: "Quantum Roulette has been one of our most popular new games of the last year, and we're delighted to be exclusively bringing it in Italian and operated by native-speaking dealers. Quantum Roulette and All Bets Blackjack are fantastic examples of the experience-led, innovative gameplay at the heart of our strategy and, having proved highly successful in other markets, we're confident Italian players will love to play the popular game in their own language."
More about the Brand
Playtech was founded in 1999 and ever since then, its approach has been centered on the continual development of best-of-breed gaming products and content, and its success built upon strong partnerships with their licenses. The company is the world's largest online gaming software supplier offering cutting edge, value added solutions to the leading operators in the iGaming industry. With a little over 5,000 employees in 17 countries, owning 140 global licenses in 20 regulated jurisdictions, Playtech is a giant in its own right.
The company also offers cross-platform management systems, running via a unified information system called the IMS, providing operators with the tools to maximize cross-selling opportunities, player loyalty and yield. Playtech's product suite can be fully integrated into a complete cross-platform offering, enabling the players to access online, broadcast, mobile and server-based gaming terminals through a single account.
Source: "Playtech and Snai Live Casino launch market-first dedicated Quantum Roulette". Playtech. June 17, 2020.
Related News