Live Slots and Quantum Blackjack By Playtech Are Taking Gaming To the Next Level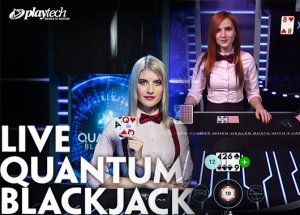 The world's leading gambling software provider, Playtech, has announced the network-wide launches of two industry-first Live Casino variants – Live Slots and Quantum Blackjack.
Founded in 1999 and premium listed on the Main Market of the London Stock Exchange, Playtech is a technology leader in the gambling and financial trading industries.
With 20 years in the gaming industry, the brand is delivering business intelligence-driven gambling software, services, content, and platform technology across the industry's most popular product verticals, including casino, live casino, sports betting, virtual sports, bingo, and poker.
As the pioneer of omni-channel gambling technology through its integrated platform technology, its main focus lays in enhancing the gambling industry and maximizing the playing experience. Its latest products, Live Slots and Quantum Blackjack are the examples of innovation that the company tends to implement through its network.
Live Slots Bringing Gameplay to a Whole New Level
As a brand-new cross-vertical concept that turns slot play into a collective experience, Live Slots represent the innovative way to enhance the playing experience. First of its kind is the highly popular Buffalo Blitz slot, entering the market as the first live game to feature "community spins," with all participating players playing a single game together.
Live Slots is designed to create a game show feel, bringing slot play to life at a new level. It's taking place in a live studio, with a host leading the game and providing commentary.
Players start by choosing their overall limit, number of spins and bet per spin, with the game continuing automatically with spins every few seconds. These kinds of slots also support Extra Spins bonusing, making it the first game in the live arena to do so.
Following Quantum Roulette, Quantum Blackjack Takes Center Stage
Another innovation comes from the table games category. Playtech's Quantum Roulette was proven very successful and amusing to players, so the developer decided to provide the same amount of enjoyment to the blackjack lovers as well.
As the industry's first-ever multiplier-based Blackjack game…
…Quantum Blackjack is bringing a highly immersive studio atmosphere together with innovative gameplay. In an extra draw after the betting time, up to three cards are drawn and given a random multiplier of x3, x5 or x10.
Getting one of these special cards and winning against the dealer, the player is paid according to the multiplier for a major win boost – potentially up to 1000x the stake!
Playtech Stays True to Its Goals
During 2019…
…the developer has released more new Live Casino games than ever. With the addition of Live Slots and Quantum Blackjack, the company's focus remains on developing the most versatile, experience-led live content in the industry.
Kevin Kilminster, Head of Innovation for Live Casino at Playtech, has this to say about the Live slots:
"2019 has been a remarkable year for the Playtech Live team, with a stronger focus than ever on experience-led innovation. Live Slots is a genuinely new concept within the industry, delivering an engaging new style of gameplay for players and creating an exciting cross-sell opportunity for operators.
The popularity of live play streaming via social media demonstrates a player demand for an interactive feel – the experience you would enjoy when playing alongside others in a land-based casino. Live Slots recreates that feeling with a unique style of gameplay."
He also expresses the brand's belief that Quantum Blackjack will be successful as its roulette predecessor:
"Quantum Roulette has been one of Playtech Live's biggest launches of the year, thanks to both its immersive visual atmosphere and the unique multiplier win concept. We're confident that, as the first-to-market multiplier-based Blackjack game, Quantum Blackjack will prove equally popular and set the tone for future Quantum Releases.
With more than 20 additional Live variants also launched this year, including American Roulette, Dragon Jackpot Baccarat, All Bets Blackjack and Casino Stud Poker to name but a few, everyone at Playtech is already looking forward to raising the bar even further in 2020," adds Kilminster.
Both Live Slots and Quantum Blackjack are available to players across the Playtech Live Casino network.
Source: "Playtech launches industry-first Live Slots and Quantum Blackjack games,". Playtech. December 19, 2019.
Related News