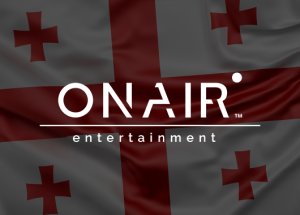 OnAir Entertainment has announced another expansion thanks to which it will bring its portfolio to an even wider audience.
The company is recognizable for its games, which have guaranteed great success among players across the globe. So far, it has expanded across several key markets, and we've got all the details on its latest venture!
Reaching Popular Market!
OnAir Entertainment has secured authorization to enter Georgia to present another live dealer studio in this country!
As announced in the deal, the developer secured a license in Tbilisi, Georgia where it will open its third modern studio in Europe. This major milestone will see the expansion of the developer's roots, taking it a closer to fulfilling its goal of global expansion.
OnAir's newly launched live casino studio will be located in the most beautiful part of this place, offering visitors an unforgettable iGaming experience with modern technology!
Exciting Table Options Going Live!
Made to bring next-level experience, the studio will present players with bespoke tables for Speed Blackjack, Blackjack, and Roulette.
Driven by a relentless pursuit of innovation, OnAir proudly unveils a captivating collection of games, delivering an unrivaled blend of seamless streaming and unparalleled gaming excellence. Through meticulous customization, the developer empowers operators to offer an unforgettable, tailor-made gaming journey for their players.
With the launch of this groundbreaking live casino studio in Georgia, the brand not only meets the soaring demand for online gaming in the region but also establishes Georgia as a vanguard in the thriving online gaming industry.
Furthermore, boasting an extensive network, the company holds esteemed certifications in a multitude of regulated markets, including the Isle of Man, the United Kingdom, Greece, Ontario, Latvia, Sweden, Denmark, the Netherlands, Romania, andMalta—solidifying its commitment to excellence across global gaming landscape.
Andres Rengifo, CEO at OnAir EntertainmentTM added: "We are excited to expand our European operations to Georgia, providing players with a customisable and engaging gaming experience. Our mission is to redefine the online gaming landscape by offering cutting-edge technology and a wide range of exciting games. With our studio in Georgia, we are poised to elevate the gaming experience for our valued players."
Source:
"ONAIR ENTERTAINMENTTM LAUNCHES ITS THIRD EUROPEAN STUDIO IN GEORGIA", europeangaming.eu, June 22, 2023.
Related News