Habanero Signs Open Platform Partnership with Industry-leading Vendor Playtech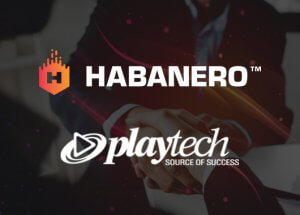 Premium slots and table games distributer Habanero has announced the partnership with the pre-eminent omnichannel gaming company Playtech. The declared collaboration aims to bolster the company's distribution using its partner's industry-leading open platform.
Habanero's diverse portfolio, which consists of over 100 slots, 10 video poker offerings, as well as other 13 table game variants, is set to be included onto the Playtech Open Platform, universally known as POP. So, what does this mean for the end consumer?
It indicates that brands signed up to POP will get a hold of titles such as Colossal Gems, Nuwa, Lucky, Mount Mazuma and 5 Lucky Lions, as well as baccarat, roulette and video poker variations, therefore covering almost all of their consumer's demands.
Arcangelo Lonoce, European Head of Business Development at Habanero, stated just how pleased and excited he is to be a part of the collaboration with the industry's very best content aggregation technology firm.
He went on to add that Playtech's immense assemblage of operators is bound to help them achieve their goals of reaching more players than ever before. Moreover, he believes that this is an exciting time for anyone who is a part of the Habanero team as they continue their efforts of expanding globally.
James Frendo, Director of Casino at the Isle of Man based casino software company Playtech, noted that the Habanero partnership is bound to be a win-win situation, as their games are notorious for the excitement and the engagement that they provide.
He had only words of praise for their new partners and their broad portfolio of slots including table games. The once far-fetched goal of offering only the highest quality content is about to be achieved, and the Habanero partnership plays a big part in that, added Frendo.
Interactive Live Casino Engagement
Playtech PLC recently launched Quantum Roulette across its network enhancing its live casino offer with another high-detailed gaming product. The software company was founded in 1999 and since then it has provided a large number of software solutions for online gambling firms such as Unlimited Tables, Lounge Blackjack Soiree Tables and more. Likewise, it is listed on the London Stock Exchange and is a constituent of the FTSE 250 Index.
It is worth noting that Playtech was initially established by an Israeli entrepreneur Teddy Sagi in Tartu, Estonia, with partners from the casino, software engineering and multimedia industries.
Since launching their first casino product back in 2001, Playtech has expanded to become the world's leading and largest international designer, developer and licensor of web and mobile application software aimed to please the needs of the digital gambling industry.
Among their clientele are the likes of online titans like William Hill, Ladbrokes, Bet365 in the UK, Snai and Sisal in Italy, etc. The fact that even some of the biggest governments and regulated agencies have indulged in doing business with them speaks best about the quality of their services.
Source: Miller, George. "Habanero pens Playtech Open Platform partnership" europeangaming.eu October 14, 2019
Related News