Evolution's Remarkable Q3 2023, Meeting Surging Demand!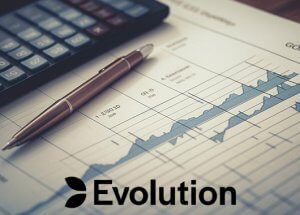 Evolution, a major player in the B2B casino industry, is experiencing such rapid growth that it struggles to keep pace with the surging demand for its captivating gameplay!
The company's recently disclosed financial data for Q3 2023 and the first nine months of 2023 reveal astounding figures, showcasing its impressive journey!
Q3 2023, Soaring Revenues
In the Q3 of this year, Evolution said that its operating gains amount to €452.6 million (£394.47m), marking an exceptional year-on-year increase of 19.6%. These robust figures highlight the insatiable appetite of players for Evolution's gaming offerings.
Q3 2023 witnessed developer's EBITDA reaching €318.6 million (£277.68m), a significant surge compared to the €261 million (£227.48m) recorded in Q3 previous year. What's even more impressive is the striking margin of 70.4%, reflecting the company's financial strength and efficiency.
Reported profit for the above-mentioned quarter of 2023 stood at €272.8 million (£237.76m), a substantial leap from the €221.3 million (£192.88m) registered in the same one in 2022. This extraordinary boost in profit speaks to Evolution's ability to meet the ever-growing demands of the gaming market.
Earnings-per-share for Q3 2023 surged to €1.28, a notable gain from the €1.04 reported in Q3 2022. This growth in earnings-per-share reflects Evolution's continued success in delivering value to its stakeholders and investors.
Jan to Sep 2023, A Banner Year
For the time between January and September 2023, its operating gain reached an impressive €1.323 billion (£1.15bn), marking a remarkable 26.1 percent boost from the same period in 2022. This amazing blossoming underscores Evolution's consistent adherence to excellence.
EBITDA for those 9 months of 2023 was €930.5 million (£811.01m), compared to €728.9 million (£635.29m) in 2022, with a remarkable margin of 70.3 percent.
Its profit for the nine months including September 30 was €788 million (£686.8m), illustrating an impressive boost from the previous year. Earnings-per-share for this time stood at €3.69, compared to the €2.91 documented in the previous year's identical period.
Evolution Group CEO Martin Carlesund shared his opinion on these figures saying: "This is a good financial performance and the underlying growth-drivers for the business remains solid. During the third quarter we released more games than during any earlier quarter: A strong development that I am pleased with, as entertaining games–and a flawless player experience–are the absolute most important factors for our long-term success."
"Our Live Casino revenue grew to €385.8 million (£336.25m) for the quarter and we see a higher demand for our product than what we can currently deliver. That is a measure of the phenomenal traction our games have. However, it also means we are not expanding our studios at the right pace. We have faced delays, and in some cases not fully executed, in several of our planned studio projects for this year. But even more importantly we need to increase the pace of recruitment both in existing studios as well as to support new studios," he added.
Source:
"Evolving Super Fast, Evolution Can't Keep Up With Demand In Q3", igamingfuture.com, October 26, 2023.