Evolution Unveils Latest Baccarat-Themed Game – Bac Bo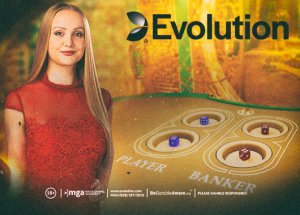 If you are a fan of the globally famous Baccarat title, then you are in the right place. Well-known developer of live casino games, Evolution, has announced the launch of its new product called Bac Bo.
While this game is not a baccarat version, it definitely has elements reminiscent of this fantastic title. This amazing product is a slightly simpler and more interesting version of baccarat in which the dice keep your attention. If you decide to try this release, you will find that the dice have replaced the cards. There will be four shakers in front of you – two for the player and two for the banker.
Easy To Understand
Whether you are new to this type of entertainment or you are already an experienced player, the rules will become clear to you very quickly.
The punter should roll his dice, and the Banker his. The numbers you get will be added together. The bigger sum wins. However, if the sum is the same, the game will result in a Tie. The odds for the Tie bet are 88:1.
Unique Creation
Todd Haushalter, Chief Product Officer at Evolution, said:"Bac Bo is another unique creation from our very talented product team and developers. It blends the essence of two classic games, Baccarat and Sic Bo, and creates something entirely new and different. You get the elegant flow and excitement of a 'come from behind win' that makes Baccarat so popular – but with the visual excitement of a dice game."
Popular Content
Evolution has so far awarded punters around the world with many titles as well as live casino games that have become very popular in a short time, as evidenced by the three "Game of The Year" awards that developer picked.
Among the most famous are lightning versions of the provider's live casino products.
Last year, its Auto Lightning Roulette was launched in New Jersey after which it was a huge success. For this reason, this casino software developer recently gave punters from this state access to its Lightning Roulette as well.
In November 2021, this brand added the iconic Lightning Blackjack to the Lightning live casino games series. This product is very similar to the classic version of BlackJack. It is also played with 52 cards, but in order to bring novelties to its products, the supplier has added plenty of multipliers to the title, thus increasing your chances of winning big prizes.
Source: "Evolution launches Bac Bo, its unique Dice Baccarat game''. Evolution. January 26, 2022.
Related News