CasinoBeats Summit 2020 Taking Place in Barcelona
The CasinoBeats Summit 2020 will take place in Barcelona, along with SBC's flagship Betting on Sports event, from September 8 to September 11 at Fira Barcelona.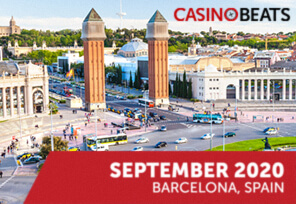 The first CasinoBeats Summit was held at Olympia London in 2018 and Betting on Sports has been held at Olympia since 2017. However, SBC recognized the need for a new venue to facilitate further expansion in both events anticipated in 2020.
Rasmus Sojmark, CEO and founder of SBC, said: "Both the CasinoBeats Summit and Betting on Sports are known for their commitment to high-quality content and delegate experience, as well as providing great business opportunities, which has resulted in a rapidly growing international appeal. As the shows continue to expand and evolve, it's important for us to stay true to the core values that define our events."
Sojmark added that they've chosen Barcelona because of its world-class hotels, transport links and attractions to ensure delegates enjoy a great time in the city. Fira Barcelona provides a large and centrally located venue to continue to deliver on this promise. Sojmark also said that the city was an easy choice to make due to its growing betting and gaming market in Spain.
Martin Lycka, director of regulatory affairs at GVC Group, welcomed the move: "Spain is a very exciting gambling market with a big international appeal, which makes Barcelona an ideal host city for next year's conference. This event is one of the first ones on my calendar every year."
Stewart Darkin, the managing director of CasinoBeats, said that the growth the brand has seen and the willingness of the industry to embrace their approach is making for a very exciting journey.
"Taking the Summit to Barcelona in 2020 is a thrilling prospect and another key development as CasinoBeats aims to match the high standards for content and networking set by Betting on Sports and the rest of the SBC portfolio." – said Darkin.
Visitors and delegates can expect an even more extensive content offering from each of Betting on Sports, CasinoBeats Summit, PaymentExpert Forum, SBC Digital Marketing Forum, SBC Sponsorship Forum and Sports Betting Hall of Fame. These events will have a great number of expert speakers and these may be the biggest gatherings of gambling professionals and experts in the industry.
Sojmark added: "Team SBC will be exhibiting at iGB Live next week, at stand Q30, and we welcome visitors to our booth to discuss Betting on Sports and CasinoBeats Summit this coming September, the SBC Awards in December, and of course our plans for 2020 including taking our flagship events to Barcelona."
Operators will also have the chance to explore the exhibition area where they will be able to see the latest product developments and innovations in the betting, casino and payments sectors.
This year's Summit will be taking place from September 17 to September 20 at Olympia London, also alongside Betting on Sports. Delegates will have full access to both events and the 2ndedition of the Summit will bring together operators, suppliers and a range of sector visionaries.
Source: "CasinoBeats Summit 2020 set for Barcelona". CasinoBeats. July 11, 2019