Spin & Win Live Roulette Goes Live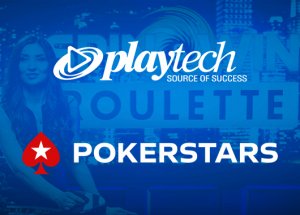 Playtech, one of the industry's leading gambling technology companies and PokerStars have partnered up to launch Spin & Win Roulette, the exclusive multiplier-based Live Roulette variant.
This variant is designed to boost player winnings and excitement and it offers winnings that go as high as 100 times the stake, if the player lands a multiplier. In this game, every straight-up position on the roulette layout is multiplied for a more exciting experience. The game is designed in an innovative augmented reality technology, giving players a visually engaging and compelling gameplay.
The Spin & Win Roulette is the latest addition to the PokerStars dedicated multi-table environment at Playtech's flagship Live studio in Riga, accompanied by nine exclusive Blackjack tables.
Delivering Innovative Experiences a Priority
Representatives from Playtech Live say that their priority is delivering innovative and engaging experiences for players and that Spin & Win is a combination of exciting gameplay which the players surely enjoy.
Kevin Kilminster, Head of Innovation at Playtech Live, comments: "Delivering an innovative, engaging experience is always our top priority when developing new content, and in Spin & Win, we're confident we've delivered a combination of exciting gameplay and great win potential. With every straight-up position multiplied, players no longer have to wait to see if the stars align with single number multipliers, giving the game an even more compelling feel for all."
"We've been working closely with PokerStars to build their exclusive offering, including a series of new dedicated Blackjack tables, and Spin & Win Roulette is a key step in our ongoing partnership. 2019 was Playtech's busiest ever year for new Live Casino releases, and we're delighted to be continuing that trend this year."
More on the Provider
Playtech, which also recently signed on with Stoixman, was founded in 1999 and ever since then, its approach has been centered on the continual development of best-of-breed gaming products and content, and its success built upon strong partnerships with their licenses. The company is the world's largest online gaming software supplier offering cutting edge, value added solutions to the leading operators in the iGaming industry. With a little over 5,000 employees, in 17 countries, owning 140 global licenses in 20 regulated jurisdictions, the supplier is a giant in its own right.
The company also offers cross-platform management systems, running via a unified information system called the IMS, providing operators with the tools to maximize cross-selling opportunities, player loyalty and yield. Its product suite can be fully integrated into a complete cross-platform offering, enabling the players to access online, broadcast, mobile and server-based gaming terminals through a single account.
Source: "Playtech and PokerStars launch exclusive Spin & Win Live Roulette". Playtech. June 9, 2020.