To Expand Broad Portfolio, eBET Partners with QTech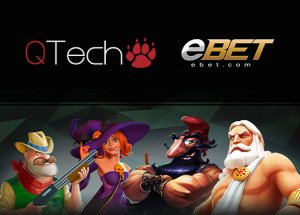 We believe that punters are very impatient every time one of the providers announces entering into a partnership with another company. This is because these collaborations give players more opportunities when it comes to the types of games and other privileges they get.
This time, the new deal will delight Asian players. QTech has entered into a collaboration with casino content supplier, eBET, which is a reputed provider of live digital casino games for Asia.
According to the deal, QTech users will have the opportunity to encounter a wide library of eBET's titles that includes live casino games with live dealers such as Fortune Wheel, Baccarat, Roulette, Sic-bo, Dragon Tiger, Blackjack, and RNG games – Slots and Blackjack.
Both QTech distributor and eBET will benefit from this collaboration by strengthening its customer's trust and providing them with new titles while the latter will expand its network to even more customers.
QTech is one of the companies that is expanding and growing at a high speed, and is known for being a platform that provides its customers with 24/7 customer service in the local language, robust reporting, and marketing tools, and is also localized for each region with native mobile apps.
Official Statements
Ulf Norder, CCO at QTech Games, said: "We're excited to be teaming up with eBET whose stunning graphics and gameplay rank among the finest on the market. The QTech Games platform is equipped with the best games from the world's leading suppliers – and eBET now joins this branching tree."
"Their ability to drive engagement and digital hang-time with their sophisticated mechanics complements QTech's shared vision of innovative tech driving a superior gaming experience for all players – wherever you stick your pin on the map. These slots seem sure to appeal to different demographics across diverse territories, so we look forward to unpacking the results."
Evan Spytma, CEO of eBET, also commented on the collaboration. He said the partnership significantly expands the brand's global influence by giving the company the opportunity to enter the Asia, Eastern Europe, and Latin America markets.
He adds that eBET titles are fully customized for all PC, Mac, iOS, and Android devices. He also said that its live casino is fully licensed and certified by GLI, and that it has 30 tables and over 250 live dealers. To provide users with an even better experience, he adds that the company provides the ability to play games in 15+ languages. Finally, he mentioned that eBET is very happy that its games are connected to this groundbreaking distributor.
Source: "QTech Games harvests more premium content with eBET''. European Gaming. November 12, 2021.