Playtech and TruNarrative Increase Compliance Protocols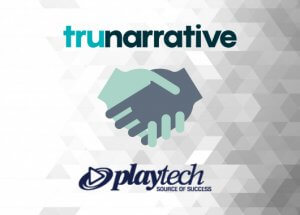 Playtech has announced the signing of a partnership with TruNarrative. Their partnership will see them delivering a global compliance platform to the gaming industry.
The regulatory requirements are increasing everywhere in the world and the partnership between the two companies will build a cost-effective compliance solution that will enable them to stay adaptable to the changing regulations and risks in multiple jurisdictions.
Representatives from Playtech say that increasingly complex regulatory framework is one of the biggest challenges that the gambling business operators are facing and that their solution will help operators meet the challenges.
Ian Ince, head of regulatory affairs and compliance for the developer, said: "The increasingly complex regulatory framework is the single biggest challenge facing gambling businesses operating in regulated markets. This partnership will help operators answer this challenge."
Single Platform Convenience
This deal will enable its customers to use a single platform to manage customer rusk, including age and identity verification, document validation, safer gambling services, PEP and sanctions screening and ongoing monitoring.
The TruNarrative solution will be available to operators using the supplier's IMS platform via a direct integration and multi brand risk management strategies can now be built from within a single platform.
"In linking Playtech's core gaming products and its BetBuddy safer gambling analytics software with TruNarrative's compliance platform, we are enabling operators to access a unique safer gambling solution," commented Anthony Evans, VP of product strategy at Playtech.
Adam Doyle, head of gaming at TruNarrative, added: "We are excited to be working with Playtech and are looking forward to delivering truly innovative customer on-boarding, safer gambling and risk management solutions to its partners."
More on the Provider
Playtech, which recently landed a new content agreement, was founded in 1999 and ever since then, its approach has been centered on the continual development of best-of-breed gaming products and content, and its success built upon strong partnerships with their licenses. The company is the world's largest online gaming software supplier offering cutting edge, value added solutions to the leading operators in the iGaming industry. With a little over 5,000 employees, in 17 countries, owning 140 global licenses in 20 regulated jurisdictions, the company is a giant in its own right.
The supplier also offers cross-platform management systems, running via a unified information system called the IMS, providing operators with the tools to maximize cross-selling opportunities, player loyalty and yield. Its product suite can be fully integrated into a complete cross-platform offering, enabling the players to access online, broadcast, mobile and server-based gaming terminals through a single account.
Source: "Playtech ups compliance protocols with TruNarrative" December 17, 2019.