NetEnt Upgrades Live Roulette Mobile Interface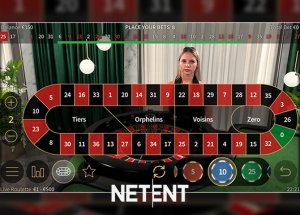 NetEnt Live, one of the most famous live games producers, has rolled out with a new mobile interface for its Roulette product.
The new interface really increases the immersion level of the product, upgrading user experience and optimizing performance across all screen orientations.
The interface introduces 18 Recent Numbers, which improves usability by far. The new design also includes a significant revamp of the portrait gameplay. The Landscape features 34 Recent Numbers and the dynamic camera and quick access to favorites and statistics are available for the player to use in both views.
The new design now gives players a chance to experience the most immersive streaming in portrait and landscape. NetEnt's Live Roulette is more immersive than any other game on the market. The players are also bet exclusively with Racetrack, which allows them to place bets easier and quicker, be it on groups or sections of numbers on the roulette wheel, without resetting the main felt at the start of every game.
Statements
Representatives from NetEnt Live say that they are committed to continually enhancing their product set with new additions and updates that will deliver unrivaled player experience.
"NetEnt Live is committed to continually enhancing our product set with new additions and updates that deliver an unrivaled player experience. With our new Roulette mobile interface, we have once again raised the bar, developing a product that is primed to capitalize on the rapid shift to mobile," said Andres Rengifo.
More About the Developer
Net Entertainment, also knowns as NetEnt is one of the world's most influential live gaming providers. Being at the very top, the providers supplies some of the world's most prestigious casino operators with top-notch games and content. 1000 professionals work on their cutting-edge platform to create some of the most engaging game in the iGaming industry. In 2018, the brand was able to handle 44.7 billion gaming transactions.
It has a strong presence in Sweden, Malta, Ukraine, Gibraltar, USA and Poland. The company is regulated and licensed by the United Kingdom Gaming Commission and the company is a proud owner of licenses in Alderney, Belgium, Gibraltar, Malta, New Jersey, Romania, and Spain.
Source: Miller, George. "NetEnt launches new mobile interface for Live Roulette". European Gaming. January 9, 2020.