Golden Nugget Online Live Dealer Games Now Available 24/7 as Casino Continues to Surge in Terms of Revenue
Atlantic City's Golden Nugget Online Casino has announced that their live dealer games studio is now open 24 hours a day, seven days a week. No longer will live games in this popular casino will be open until 3 AM, as was the case up until now.
Players will be able to access this hybrid of the traditional casino and online casino games non-stop, whenever they feel like it.
A Brief History of Live Revolution: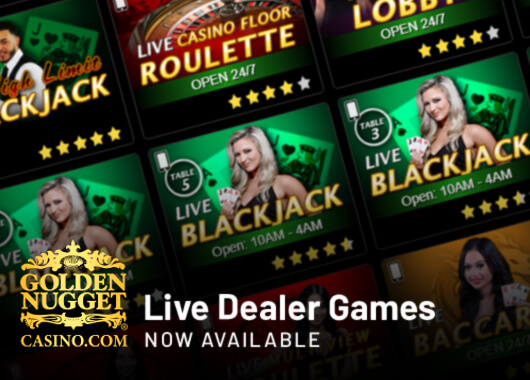 Three years ago, Golden Nugget became the first New Jersey gambling site to offer live dealer games, thus starting a revolution that has become quite the norm nowadays.
When they started it all three years ago, what they had on offer was blackjack, roulette and baccarat. These versions of traditional games, as played in land-based casinos, became quite popular in the whole of the USA in a short span of time. Players quickly became accustomed to the fact that the action was streamed online and that they were able to bet using the online interface.
Soon enough, Golden Nugget added some more games to their portfolio…
…when they introduced Live Casino Hold'em in January 2018 – a Texas Hold'em style. This was followed by Live Casino Floor Roulette in March which was also streamed straight from Golden Nugget Atlantic City.
In June 2018, Live Unlimited Blackjack was launched, which allowed for an unprecedented unlimited number of players to bet on the same live blackjack hand.
Listening to Players' Demands:
The casino's Online Gaming SVP and General Manager, Thomas Winter, commented on the decision to go 24/7:
"We continue to demonstrate the never-ending commitment of GoldenNuggetCasino.com to providing New Jersey online casino players with the best online gaming experience. Our patrons asked and we delivered by opening our live dealer studio around the clock."
The first live game to hit the ground running for the all-day play was Live Casino Floor Roulette…
…and now, all the live dealer games are available 24 hours a day, every day of the week, thanks to extended live dealer studio hours.
Top-Performers:
Golden Nugget Online Casino was launched in November 2013…
…and has since become the best-performing, top-grossing online casino in The Garden State.
Live dealer games are among the most popular on the site, as evidenced by Winter. He said that this segment helped drive a 150% increase in online table game revenues.
Golden Nugget made more than $14 million in revenue in May 2019, according to Division of Gaming Enforcement figures released recently. This is 37% of the total New Jersey market share.
Source: "Shirley, Bart. WANT MORE LIVE DEALER GAMES? GOLDEN NUGGET'S GOT YOU COVERED 24/7". Play NJ. June 13, 2019.
Related News