Gamanza Powers the First Legal Online Casino for Grand Casino Baden
On Friday 5th July 2019, jackpots.ch, the online brand of Grand Casino Baden became the first legal online casino to go live in Switzerland under the new regulatory framework.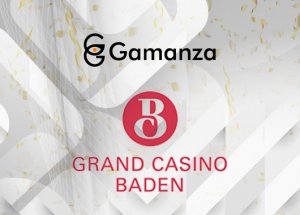 Earlier this year, Grand Casino Baden made a strategic move to secure its own online venture by investing in Gamanza, a prominent startup with the capacity to build a world-class platform solution.
It is not easy for a start-up to take on such a build and be the first platform provider to go live in a newly regulated environment. However, Gamanza managed to pull it off. They delivered the project in a very impressive timeframe and the modern platform architecture was built around several microservices, making it highly scalable and allowing for a lot of adaptation and customization.
Head of Online Casino at jackpots.ch, Marcel Tobler commented: "One of the key reasons behind our decision to make the investment and work with Gamanza was the superior player engagement system that was ready to be integrated with our existing land-based player loyalty programme." "We are delighted with the level of flexibility in every aspect of the platform offer and really proud of our collective achievement."
Aftermath:
After the new regulations were implemented, Switzerland became one of the most stringent jurisdictions in the iGaming world. Aside from the compliance and responsible gaming codes of practice, there are a number of local system integrations needed to fulfil KYC requirements.
Gamanza Founder & CEO, Magnus Lindberg said that "Since we already had a really strong player engagement offering in place, our initial focus was mainly on compliance. We have built a dedicated framework that handles all KYC, AML and responsible gaming processes, as well as our proprietary data storage device and the local integrations required under Swiss regulation". "As with all the services within the platform, the compliance framework can be easily adapted for different jurisdictions, or for the specific requirements of an operator."
The number of games that have a license to be distributed in the country is still limited at this stage. The reason for this is that game provider and the company must hold an ISO:27001 certifications. The newly regulated Swiss market is still in its infancy but it represents a significant opportunity for game providers.
More about Gamanza:
The company serves as a cutting-edge iGaming platform provider with a vision to drive innovation and become a leading supplier of Casino and Sportsbook content and platform solutions.
It now has Grand Casino Baden backing it, a prestigious land-based casino group. This partnership entails that Gamanza will provide a full platform provision for JackPots, the online brand of the land-based venue.
The teams at the provider's HQ work constantly to develop a highly secure and compliant technology platform and specialize in delivering new levels of entertainment for end users. The developers work on unique game concepts and bespoke gamification systems, providing operators with brand USP and helping them drive player acquisition, engagement and retention.
Source: Miller, George. "Gamanza Powers the first legal online casino in Switzerland with its iGaming Superstore". European Gaming. July 17, 2019.