Blackjack Salon Privé, Ezugi's New Luxury Product Available to Players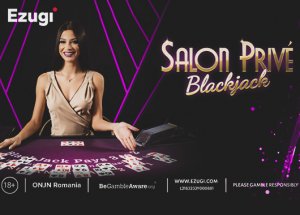 Ezugi, which has been a part of Evolution since 2018, announces a new exclusive studio that will provide players with peace, quiet, and privacy. Yes, you heard right, but what we have to mention is that the punters will be able to sit alone at the blackjack table, while also reserving all seven seats.
Blackjack Salon Privé offers a private Live Blackjack table that you will likely enjoy, and you will also have the opportunity to experience high maximum bets, and we think high rollers will especially like this.
The Details
It will be streamed from Ezugi's studio, and your hosts will be highly professional VIP dealers.
The brand gives you the opportunity to ask a dealer for a shoe change at any time with Blackjack Salon Privé. Also, there is no betting time on this private table. Only you decide when you want your cards dealt or when the game should start.
The benefits of this table are that if you want privacy, you will certainly get it, which would mean that no one can watch your game or participate.
From the CEO
Kfir Kugler, CEO at Ezugi, said: "Our aim here is to spoil players – they deserve only the best and we wanted to provide them with the ultimate playing experience, on every device. This new Blackjack Salon Privé is without a doubt the jewel of Ezugi and we're thrilled to be able to offer such an opulent product to high-roller players. They can expect a unique experience, where they are the most important person in the room and can control and play the game at their own pace. In Blackjack Salon Privé, individualized taste and luxury is celebrated. We look forward to launching this product to our customers and hope to see great success."
Source: "The jewel of Ezugi now launched – exclusive Blackjack Salon Privé''. European Gaming. November 19, 2021.
Related News