Evolution Enriches Library with Cash or Crash Live Game Show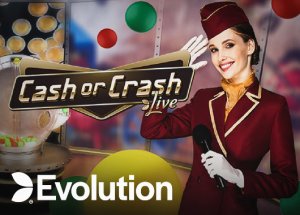 Evolution Gaming, the popular provider which recently released Gonzo's Treasure Hunt, wasted no time fulfilling the wishes of its customers. In its rich portfolio, it has included live versions of games that are becoming increasingly popular, such as its latest Cash or Crash release.
What's New?
The supplier recently announced the debut of its gameshow-inspired title – Cash or Crash. Players take off and fly all the way to the top, above the metropolis where they can expect to win up to 50,000x.
With its RTP of 99.6%, we can put it on the list of the best player-friendly online products. If such a list exists, this title should definitely be on it!
The red, green, and gold balls will make a spectacle! It is similar to bingo, but instead, you will have 4 options at your disposal: to cash in the money, half to take, and a half to continue playing, or simply continue with the entire amount with possible prizes that can bring up to 50,000x – with the help of a green ball. But you should be careful. If you don't cash the money before you draw the red ball or the blimp crashes, you can lose everything!
Risky, but Worth it!
You should not be too scared because the golden ball is there to take away your worries. It will act as your shield to protect you from the next red ball and increase payouts.
Players can choose the option 'Continue,' 'Take Half' their winnings, and continue with the remaining 50%, or 'Take All' of their winnings, but only after the golden shield has been broken or the green ball is drawn.
Todd Haushalter, Chief Product Officer at Evolution, said: "This year we have chosen to introduce more decision-making and strategy into our game shows to expand the space to a wider and new audience. This is not just a strategy game, but it is a skill-based game and at that, it is the most generous game players have ever seen in online. It has a 99.6% payback rate when played optimally and furthermore, with 20 balls advancing players and just 8 red balls, players will have the chance to cash out with a profit 71% of the time on average, which is largely unheard of. There are no side bets and no complexity. It's just a pure gambling experience that keeps you on the edge of your seat."
Source: "Evolution Launches Cash Or Crash, Unique High-Flying Live Game Show". Evolution. September 22, 2021.
Related News