BetGames and Betway Rewrite the iGaming Narrative in Africa!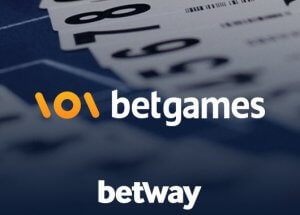 In a bid to reshape the gaming landscape in Africa, BetGames, renowned for its live dealer and betting games, has joined forces with global gaming heavyweight Betway. This dynamic partnership is not merely about expanding the gaming repertoire; it's a narrative that promises to redefine how players in Africa experience and engage with online gaming.
Unleashing the Crash Game Sensation
The curtains rise with the grand unveiling of the Crash Game, an adrenaline-soaked adventure with a maximum multiplier of 100,000x. Picture this – a unique in-play animation, with functionalities that allow for autoplay and auto cash-out, all optimized for seamless play even in challenging network conditions. The Crash Game is not just a game; it's a pulse-pounding journey into the heart of gaming excitement.
As the audience settles into the gaming experience, BetGames introduces a curated selection of classic casino games, revamped and reimagined for the digital era, including Roulette. This act promises an authentic casino experience delivered directly to players' fingertips. A nod to tradition with a modern twist, this offering is designed to captivate players with timeless entertainment.
In the second act, BetGames shifts gears to cater to sports enthusiasts, unveiling a high-frequency sports product. This promises an immersive and dynamic sports betting adventure, seamlessly blending the thrill of live events with the convenience of a high-frequency format. The stage is set for an unparalleled journey into the world of sports betting.
The grand finale is here! As the trilogy unfolds, it becomes evident the brands are not merely adding games to the repertoire; they are scripting a new narrative in African gaming. This grand finale of the partnership underscores a need for innovation and a new gaming experience that transcends boundaries.
Commenting on the appointment, BetGames' VP of Sales Africa, James Everett, said: "We've enjoyed a fantastic relationship with Betway in Africa and this project to deliver more branded content elevates our alliance. Our pipeline of new games in 2023 provides us with an incredible opportunity to put more high-quality entertainment in front of a significant number of new players who will have a greater range of dynamic, fast-paced experiences at their disposal."
Mark Rowles, Head of Marketing from Betway, added: "We're delighted to expand our partnership with BetGames for Betway in Africa. The three new tailor-made games will enhance our customers' playing experience, where they can enjoy the latest gaming content in a fair, safe and responsible environment."
Source:
"BetGames expands Betway Africa partnership with range of bespoke branded content", europeangaming.eu, November 9, 2023.
Related News