BETER Live Goes Live With REEVO!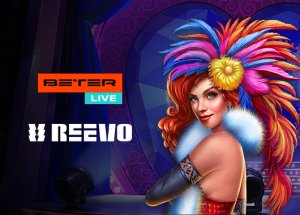 REEVO takes another significant step that will see the integration of fresh live casino content onto the aggregator's platform!
Just a few days ago, the company expanded its list of partners by adding Barbara Bang to it, yet REEVO embarks on another collaboration that will bring many exciting opportunities to everyone!
Landing Major Integration!
In a strategic move to enhance its offerings and elevate the live casino experience, REEVO has forged a dynamic partnership with BETER Live, provider of live casino games.
This collaboration signifies a significant stride forward for both companies, as they pool their expertise to create a more immersive and engaging platform for live casino enthusiasts and players alike. BETER Live's strong reputation for delivering high-quality content aligns seamlessly with REEVO's commitment to innovation and customer satisfaction.
The integration translates a wealth of benefits to users, as they can now access an even wider array of live casino titles. From traditional Blackjack and Roulette to the rapidly growing realm of Gravity Series and ever-popular Sic Bo, this collaboration promises to deliver a diverse range of captivating content to cater to every interest.
Sharing a Mission
The brands are both looking forward to a succeffully collaborative future, thanks to this latest deal.
Anna Vikmane, Director of BETER Live, said: "This is the start of what will be a long and successful collaboration with REEVO. Both companies share a mission to deliver the most entertaining content to players and our portfolio of live titles is proven to do just that. Not only can REEVO's operator partners offer their players quality live table games such as Roulette, Blackjack, and Baccarat, but they can also unleash our thrilling Gravity Series of games on players for the first time. This takes the gameplay to the next level, boosting enjoyment, time spent on the game, and ultimately revenues for operators."
Petra Maria Poola, Head of Sales at REEVO, added: "BETER Live has made a significant impact in the realm of live content, blending excellence and creativity to provide novel player experiences. This addition greatly enhances our offering, and we eagerly anticipate a close collaboration with the BETER Live team in the upcoming months."
Source:
"BETER Live and REEVO join forces in major content deal", europeangaming.eu, August 16, 2023.